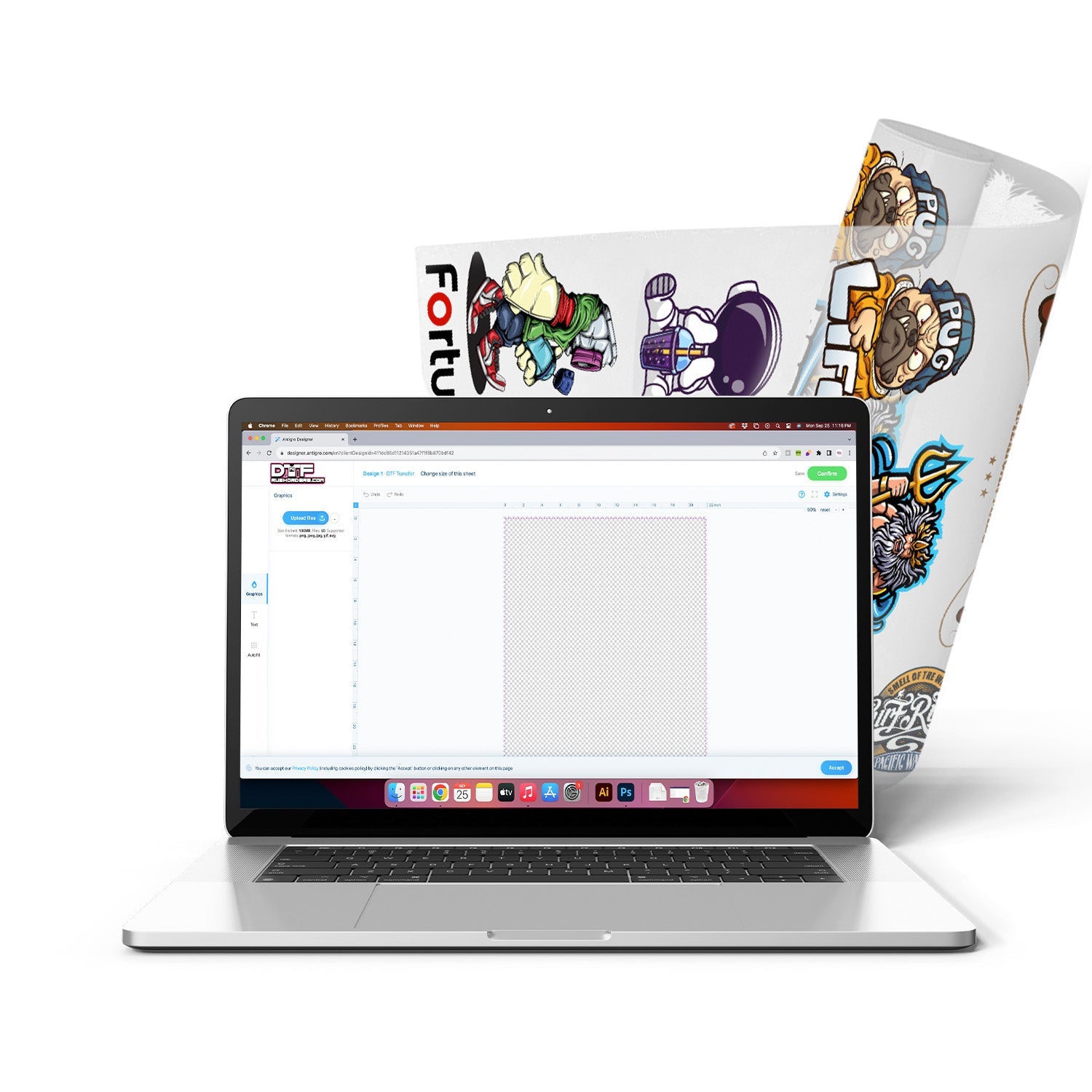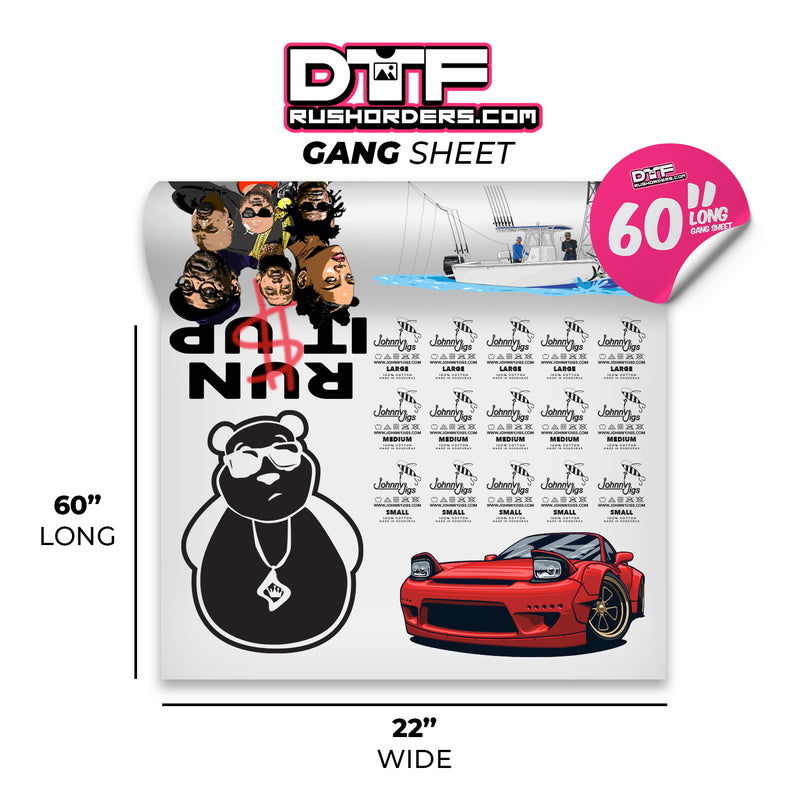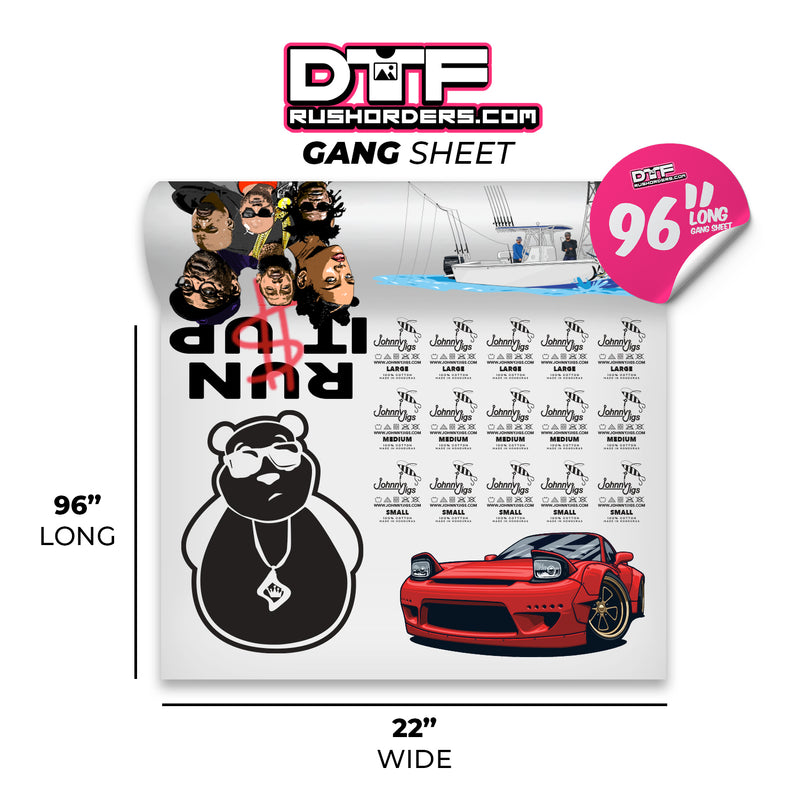 DTF Gang Sheet Creator
SKU: 24IN-DTF
---
BEFORE PLACING YOUR ORDER:
Please make sure when using the DTF Gang Sheet builder you are upload High Resolution images as low quality images can be rejected and print quality will not be at the highest quality.
Products:
Production Time:

DTF Transfers

2-4 Business Days

(*Next Day Rush Available)

Glitter Transfers

5-6 Business Days

UVTransfers

6-8 Business Days
---
"Unlock Your Creative Genius with DTF Rush Order's Online Gang Sheet Creator 🌟

🛠️ DIY Gang Sheet Creation:
Ready to take the reins? With our DTF Rush Order Gang Sheet Creator, you can craft your own gang sheets online, tailoring every detail to your vision. Unleash your creativity without the hassle—our user-friendly interface makes it a breeze!

🎨 Ultra-Bright Hues & Crisp Whites:
Settle for nothing less than the spectacular. Our premium inks and transfer films are industry-leading, promising you intensely vivid colors and stark whites that wow. Works like a charm on any fabric, be it light or dark, cotton or polyester.

👕 Next-Level Durability & Flexibility:
We're taking garment printing to a whole new level. Our advanced DTF Gang Sheet printing technology ensures your clothes are not just eye-catching but also enduring. From your casual tees to performance gear, expect zero fading, cracking, or peeling—wash after wash.

👌 No-Hassle, 100% Happiness Guarantee:
Your smiles make us tick! If you're not 100% thrilled with your creation, we'll reprint it, no questions asked. Because your satisfaction is our mission.

🛒 Click, Customize & Wow!
Why wait? Click to build your custom gang sheets online and experience fashion that truly lasts!

Our Top-Notch DTF Transfers Feature:
✨ Lifelike Colors + White Underbase
✨ Long-Lasting Prints
✨ Simple Printing & Setup
✨ A Guarantee to Make You Smile"

Elevate your wardrobe today. Craft your custom DTF Gang Sheets online with DTF Rush Order and feel the difference! 🛒"
The following will guarantee your orders will be printed at the highest quality possible.

• Vector Preferred / 300+ DPI Preferred

• Embed any imported files

• DO NOT Mirror Images

• Transparent backgrounds only

• Expand all text to paths

Please at anytime you have issues setting up your gang sheet and need questions answered call 954-404-8103 or email us at orders@dtfrushorders.com