Filters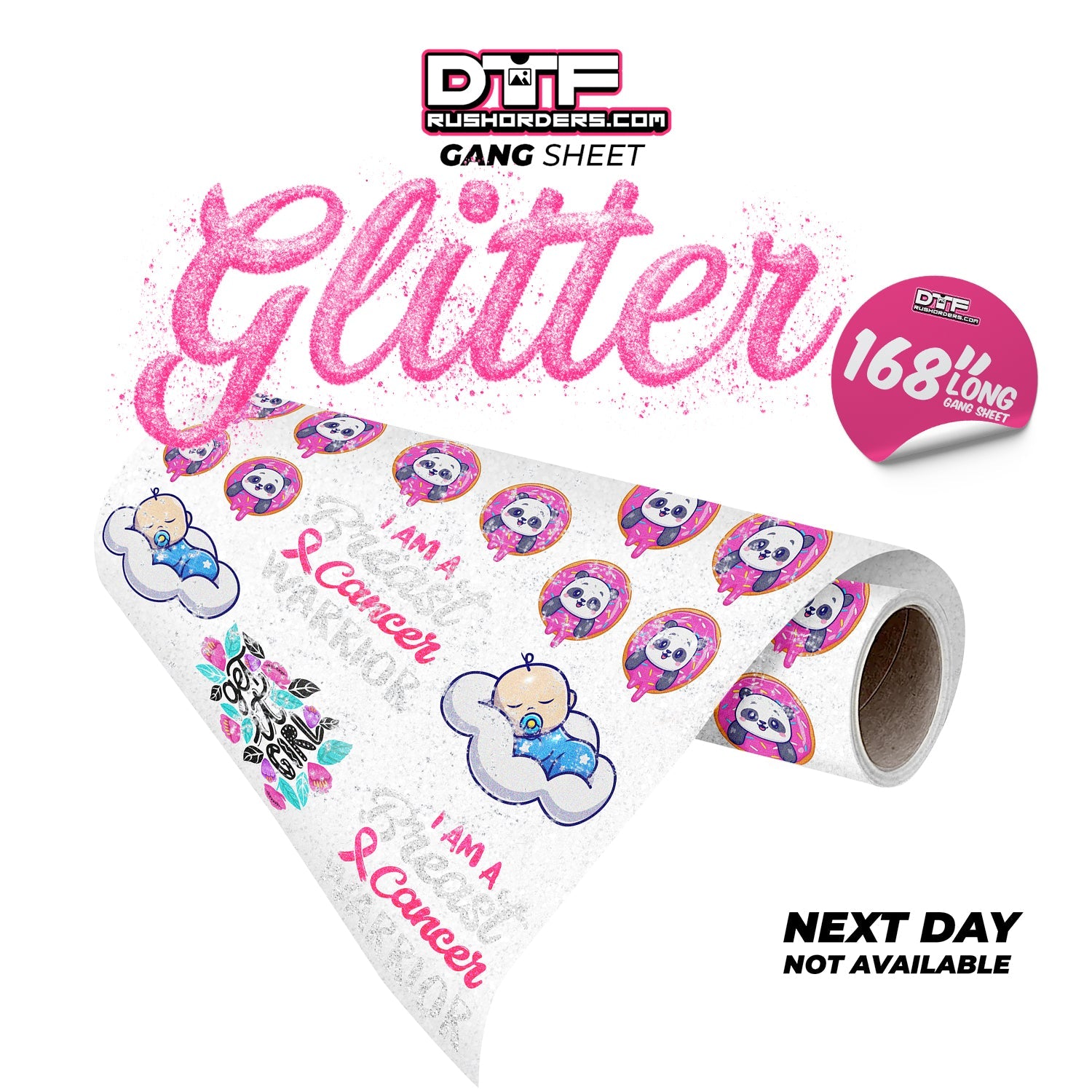 DTF Glitter Transfers brings innovative solutions for businesses, sports teams, and branding needs. Our advanced DTF technology utilizes cutting-edge materials, ensuring our prints are robust and long-lasting, far surpassing those of our competitors. With our exceptional printing process, your product will shine bright and stand out.
Our high-quality transfers cater to your needs, whether you require intricate designs or visually striking effects. In staying abreast of the latest technological innovations, we strive to maintain our status as the industry pioneer. Our transfers impart high-level durability and reliability, ensuring your designs stand the test of time with incomparable longevity and top-notch quality.
With our custom-ready-to-press transfers, the customization process couldn't be easier. Forget confusing processes and let us do the work - all we require is your gang sheet! Plus, with our user-friendly heat press transfers, you can personalize a wide range of items in seconds. From clothing and bags to hats and more, our transfers are incredibly versatile and can be applied to a variety of fabrics - including cotton, polyester, and fabric blends.
But what sets our transfers apart from the rest is their customizability with glitter. Our wide range of glitter transfers come in an array of colors that will add glamour and sparkle to any design. Elevate your brand or team's uniforms with a touch of sparkle that exudes quality and style. And, rest assured, our transfers are not only eye-catching but also durable. They stay vibrant and intact even after multiple washes and wear - ensuring your personalized items are always making a statement.
Unbeatable Durability: Our Transfers Stand the Test of Time
But what truly sets us apart is our commitment to delivering superior quality. Our experienced team works diligently to make sure that each transfer is flawless and exceeds your expectations. And, with our unparalleled quality and excellence at an unbeatable price, there's no need to settle for mediocrity.
In conclusion, look no further than DTF Glitter Transfers for all your transfer printing needs. Whether you're a business looking to elevate your brand or a sports team needing to stand out on the field, our customizable glitter transfers have got you covered. Order now and take your game to the next level!
The official transfer Store &nbsp
+

&nbsp Print Shop
©2023 DTF RUSH ORDERS LLC. ALL RIGHTS RESERVED. DTF RUSH ORDERS IS A CUTTING-EDGE PRINTING AND EMBROIDERY SERVICES PROVIDER, COMMITTED TO DELIVERING UNPARALLELED QUALITY AND CUSTOMER SATISFACTION. OUR TEAM COMPRISES OF HIGHLY SKILLED PROFESSIONALS WITH EXTENSIVE EXPERIENCE IN DTF TRANSFERS, EMBROIDERY, PRINTING, PROMOTIONAL PRODUCTS, AND SCREEN PRINTING